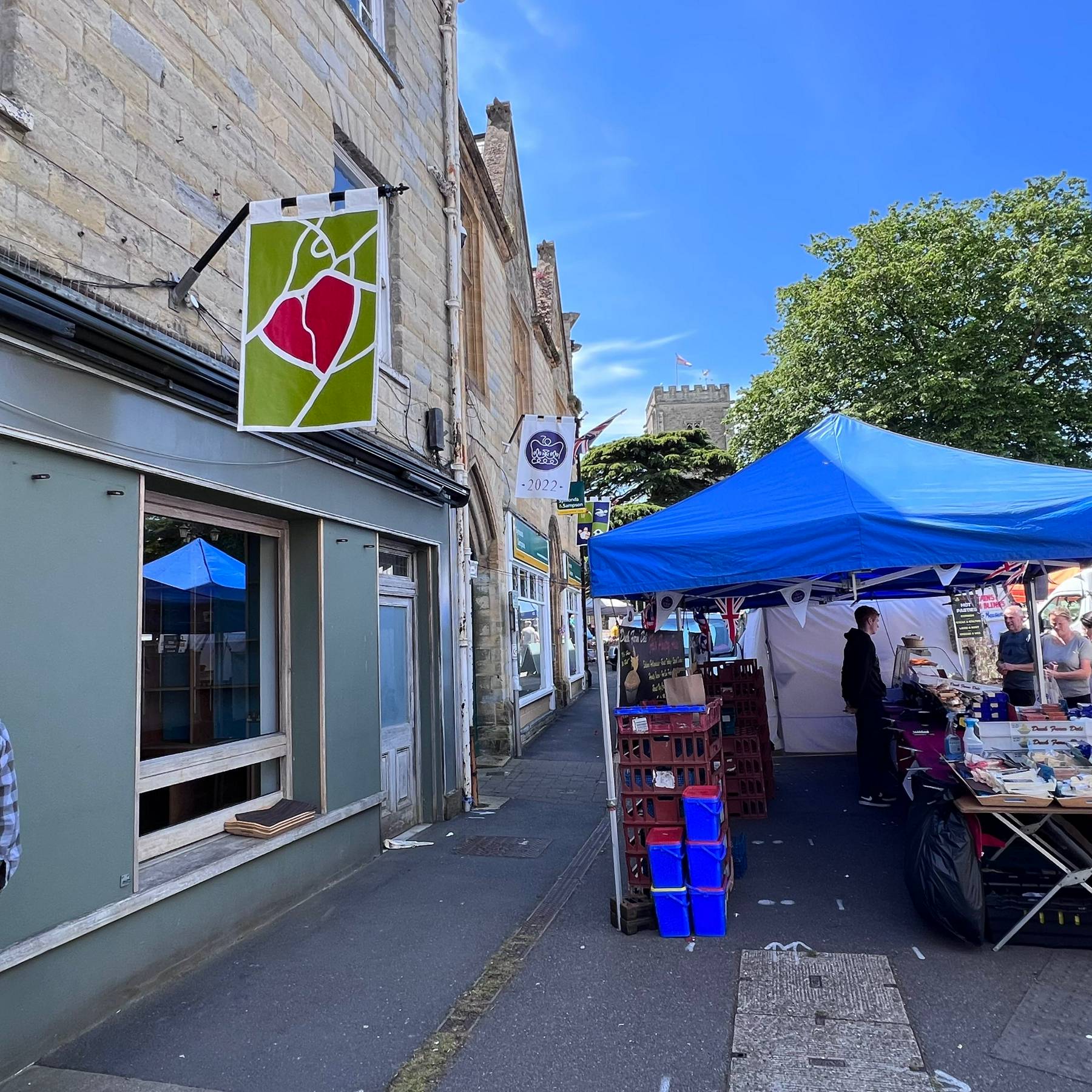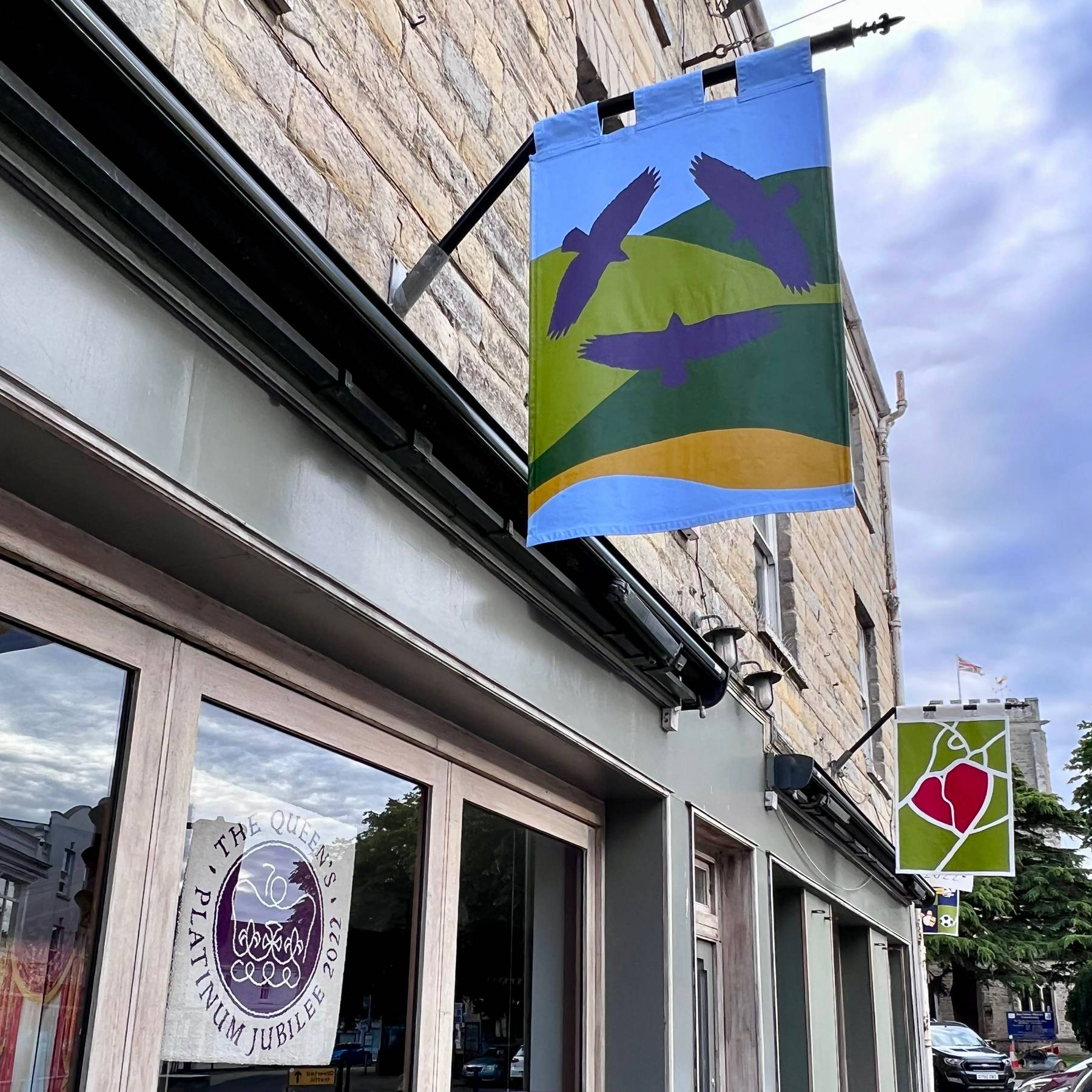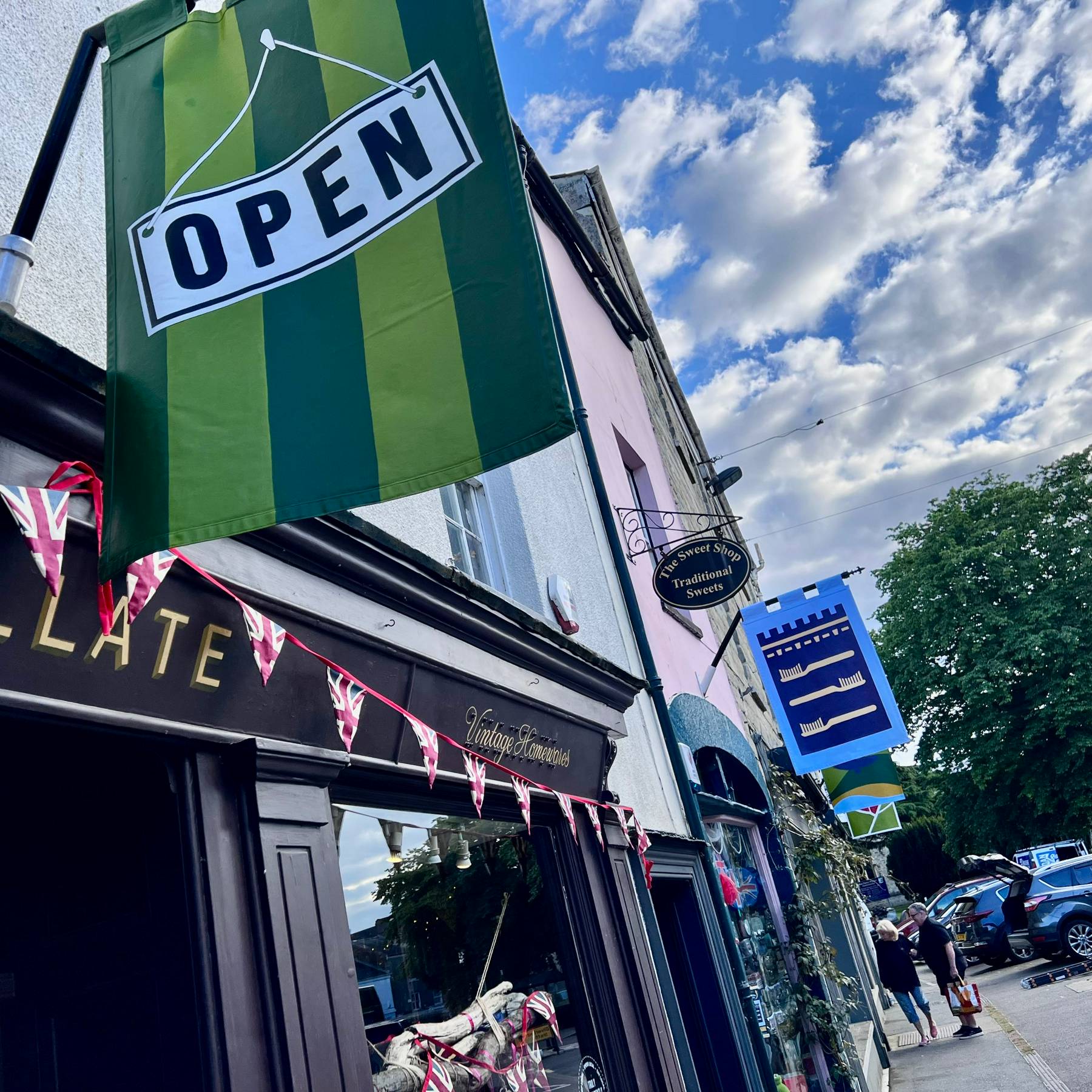 Your Axminster … Then and Now
Through Totally Locally Axminster, we are introducing colourful street banners to the town centre. They are appearing in stages over the coming weeks and we hope will build in the coming years to become a trail that covers each of the main shopping streets.  Here's the story behind each banner.
A huge thank you to the volunteer team that has made this possible. You have been magnificent!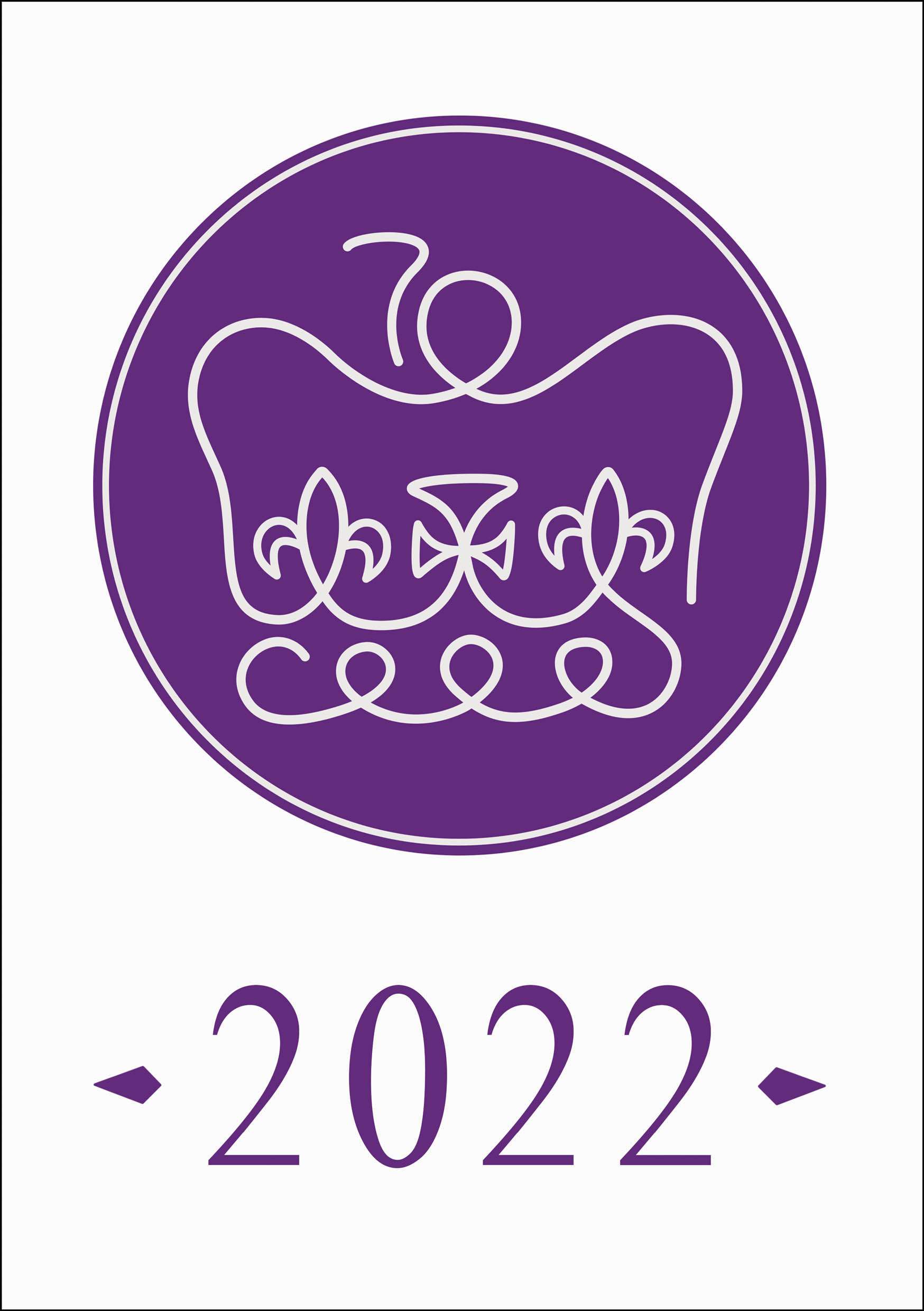 Celebrating an incredible royal achievement
Our special banner is one of a host of ways in which Axminster celebrates the the Queen's historic Platinum Jubilee after 70 years of incredible service to the nation. Over that period, Her Majesty has seen 14 Prime Ministers take office, all the way through from Winston Churchill to Boris Johnston.
While the Queen has never undertaken a royal visit to Axminster, records show that in 1789 King George III and Queen Charlotte stopped off here en route from Weymouth (where the King had been recuperating from illness) to Exeter. They were met at the gates to the town by Sir John William de la Pole and escorted first to the George Hotel and then to the Thomas Whitty & Son carpet factory where they toured the workshops.
Did you know? Most of the British population have never known another monarch. Some 81% weren't alive when she came to the throne.
Cllr Jill Farrow, Mayor of Axminster: "Axminster is immensely proud to join the rest of the United Kingdom and the Commonwealth in celebrating Her Majesty's historic Platinum Jubilee. God Save the Queen!"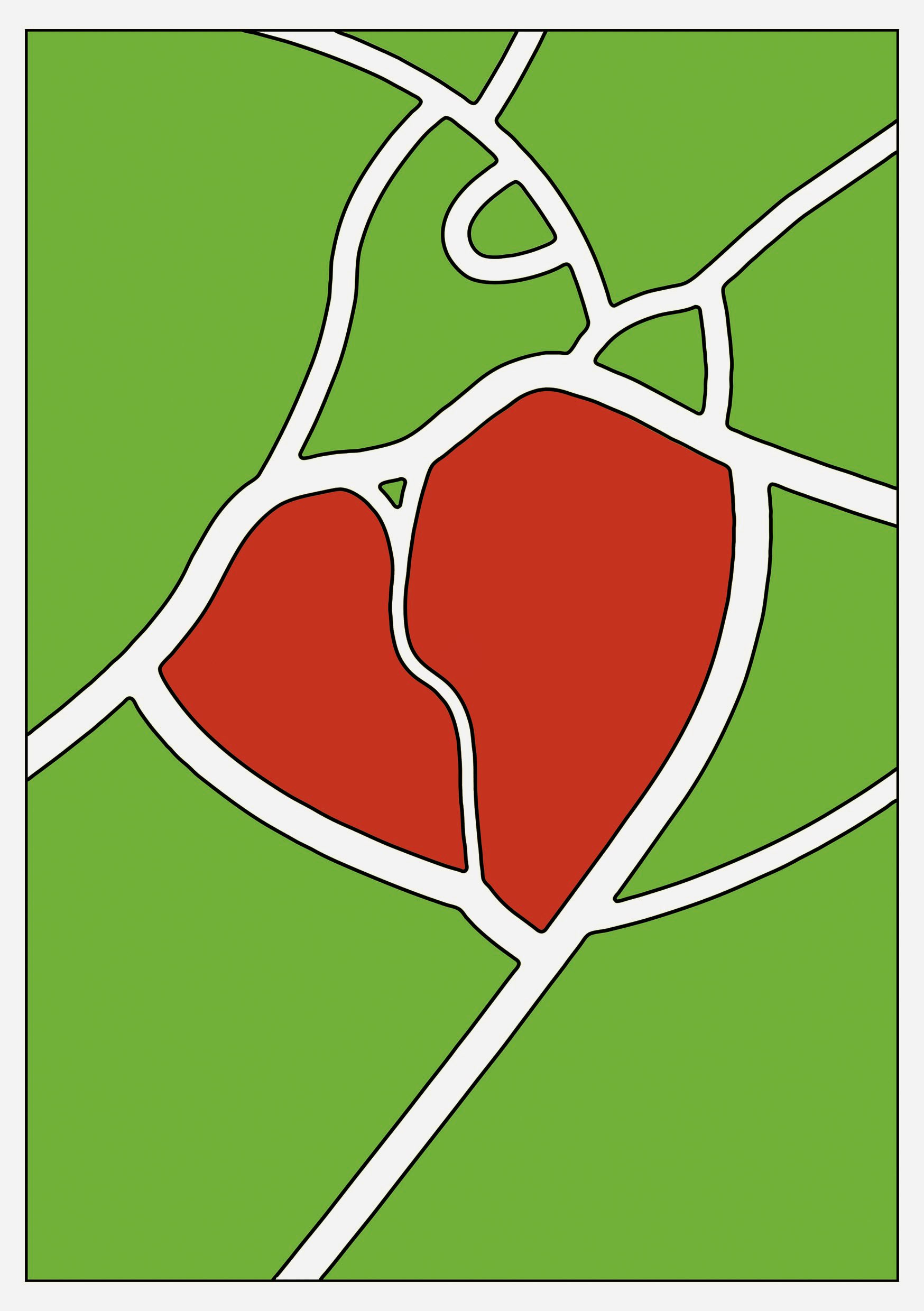 Heart of Axminster
The beating heart of Axminster lies nestled amongst the beautiful rolling countryside of three wonderful counties. It is decorated with a heritage which dates back for centuries, the evidence of which can still be seen today.
Its vibrant collection of community organisations and charities are all driven by dedicated volunteers with the goal of looking out for one another. There are countless social groups and clubs here, all of whom embrace those who care to join them, including those from further afield. The town is blessed to have a church network, Pippins Community Centre and the health and wellbeing centre and an engaged Town Council to provide help and support to those in need. Axminster boasts a re-energised Chamber of Commerce, exceptional shop traders, a host of superb hospitality providers and a fantastic market on a Thursday. Arts and culture are also blossoming here as creatives of all kinds make Axminster their home.
At the very core of all these amazing enterprises is people. And the people of Axminster certainly have heart! Isn't it fitting then that when you look at Axminster on the map, its very centre just happens to be shaped like a heart?
Banner designer: Sarah Jackson
"A colleague of mine, Paul Hayward, once pointed out to me that the centre of Axminster was shaped like a heart, and to my surprise I found it was! Axminster has faced some knocks over the years, but it always gets back up and that's a testament to the people here. We all really care about our home. The 'Heart of Axminster' seemed a perfect way to illustrate this".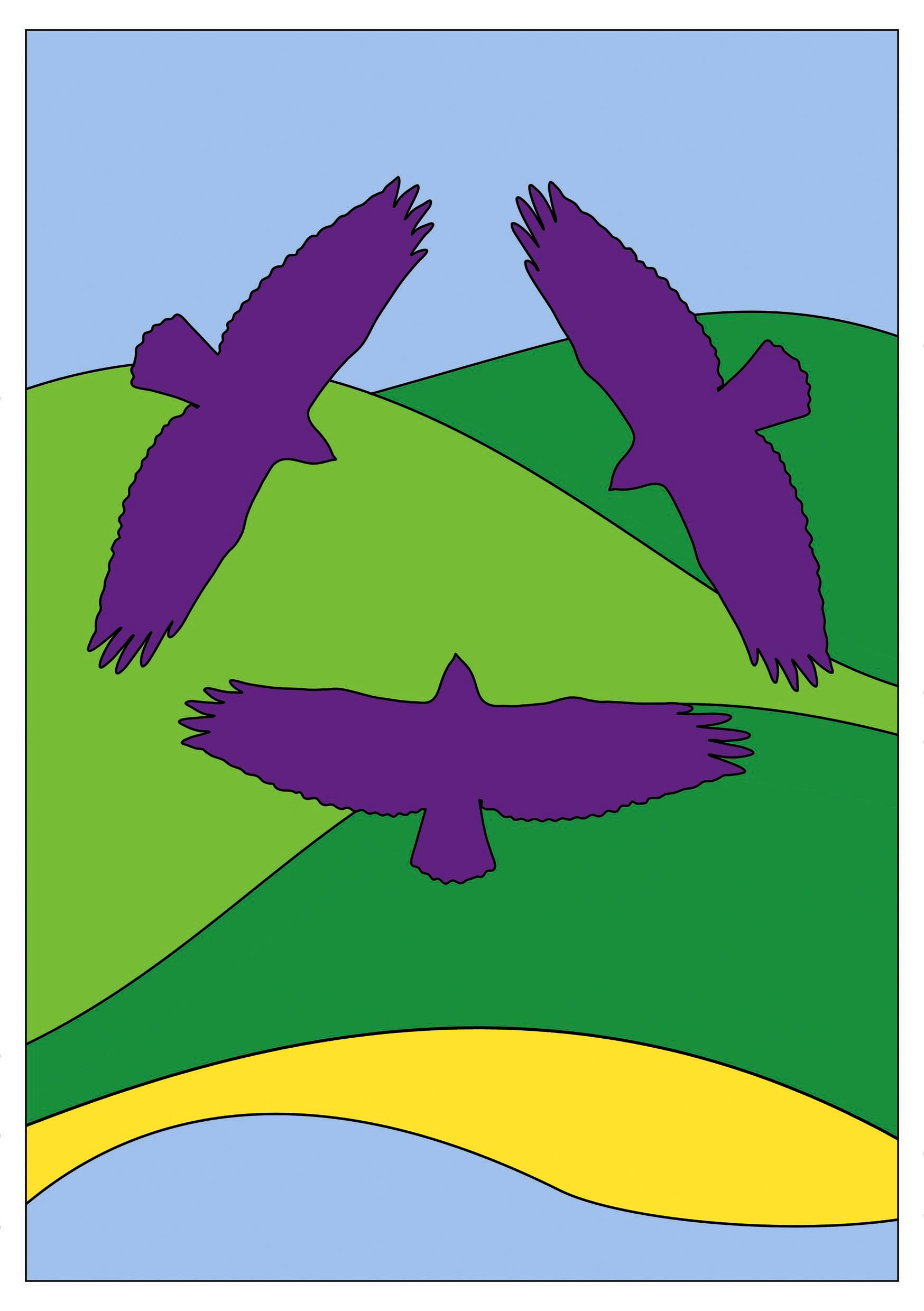 Outstandingly beautiful
Whichever direction you go from Axminster you are quickly into some of Britain's most stunning landscapes. Rolling green countryside built from a patchwork of irregularly shaped fields is cut by wooded valleys and bordered by thick hedges and narrow country lanes.
Three designated Areas of Outstanding Natural Beauty surround Axminster. The East Devon AONB includes dramatic cliffs telling a 185 million year story of earth's history and attractive coastal villages. It takes in the World Heritage Site 'Jurassic' coastline and the 630-mile South West Coast Path.
Immediately north of Axminster is the Blackdown Hills AONB with its steep ridges, high plateaux, river valleys and springs creating a delightful mosaic of countryside dotted with farms, villages, and habitats. Just a mile or so east you are into the vales of the Dorset AONB, which stretches all the way across half the county to Poole Harbour.
Banner designer: Nicola Hobson
"I wanted to come up with a design that celebrates the fact that we have three AONBs on our doorstep. The buzzard is the logo for our own East Devon AONB and a bird we see all the time. Beyond that, for me its about rolling hills coming down to beautiful coastline. I chose purple as the dominant colour to celebrate the Queen's Platinum Jubilee."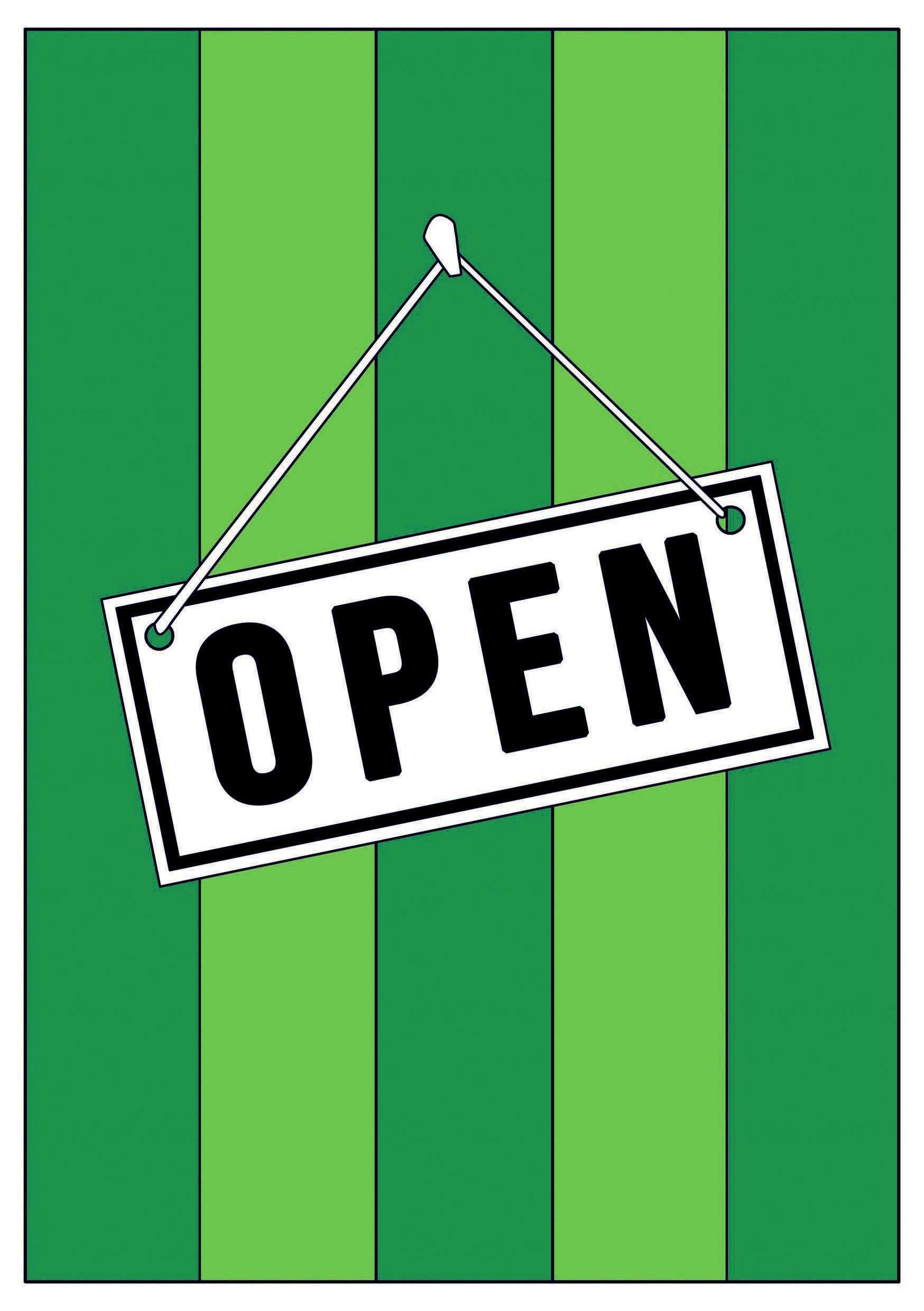 Independently minded
Axminster is a town that values its independents! The local economy has grown up around small local businesses that are embedded in the community and serve it through thick and thin, most notably during the pandemic.
It may not be large but Axminster has a unique assortment of outlets to eat, drink and shop. In the wider area there are also plenty of great places to stay. The town has an especially strong group of gift and craft shops that provide outlets for talented local makers, and charity shops that support community issues.
Over recent years, Axminster has been a town in transition as economics have become so much tougher for high streets in small towns. The town is, however, now fighting back as evidenced by the recent restoration of the former Trinity House department store as a series of small independent shops and a socially orientated café.
Banner designer: Sarah Jackson
"I wanted to design a banner that represented all the town's traders. I knew this would be tricky as the town is blessed with such a variety of businesses calling Axminster home. In the end I decided the real message was that Axminster is always 'open for business' and took inspiration from signage and the awnings seen throughout the town centre."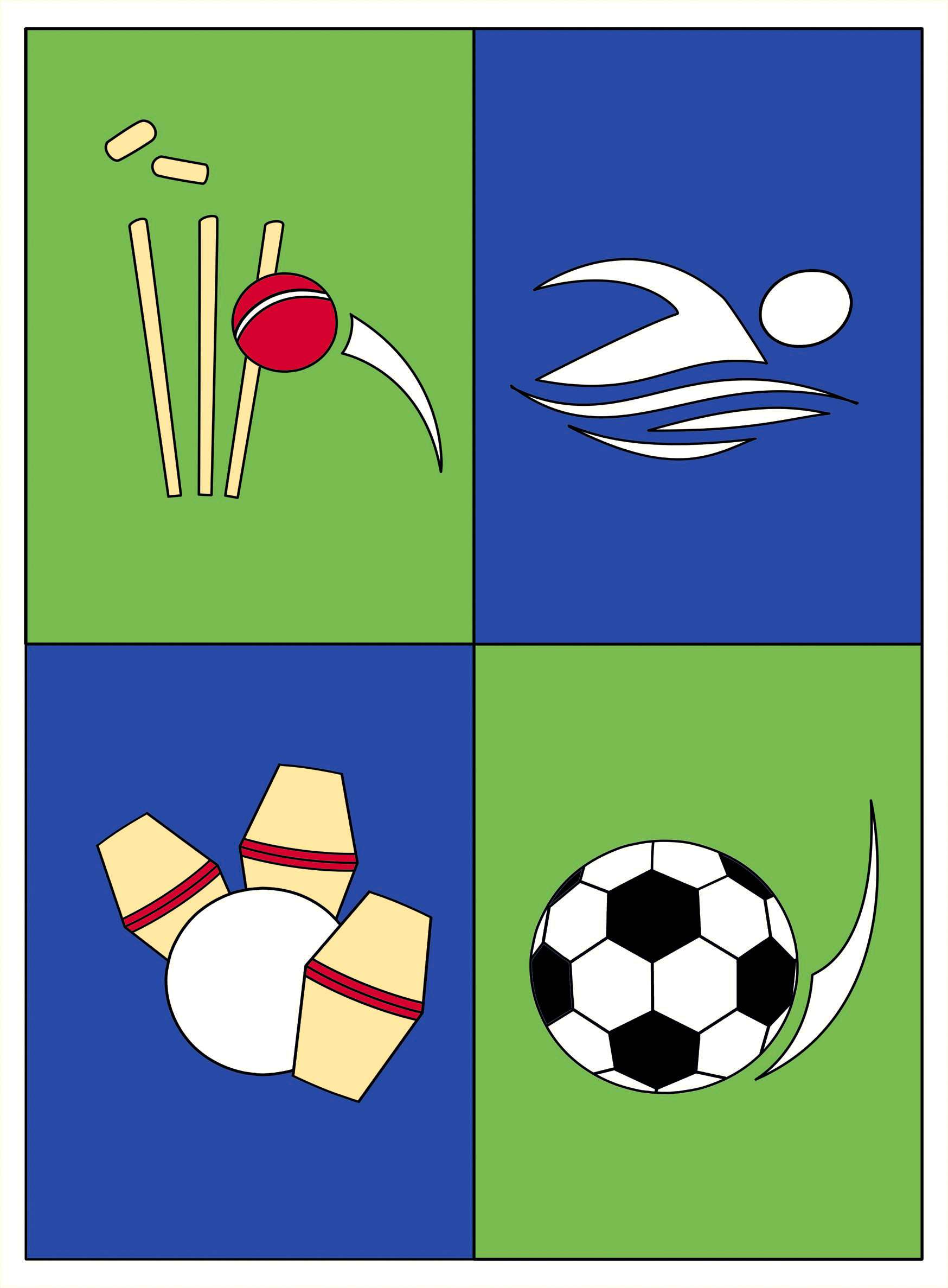 Sport for everyone
It doesn't matter whether you are nine or ninety, there is plenty of sport to be enjoyed in and around Axminster and plenty of well-run clubs who will help you find your level. If football is your game, then you could play with Axminster Town FC in the giddy heights of the South West Peninsula League. There is also some highly watchable cricket played not just by Axminster CC but in several surrounding villages. And skittles is a real local favourite.
At Cloakham Lawn Sports Centre you can apply yourself to both indoor and outdoor bowls and to much more besides, while Axminster Leisure Centre has the benefit of an all-weather synthetic (and floodlit pitch) as well as a big sports hall. With the Flamingo Pool, several well-equipped gyms and schools often sharing their own facilities, there are few sporting interests not catered for.
But sport also integrates itself into Axminster's wider ethos of community. Children are getting enthusiastic encouragement. Women are playing sports that once tended to be the preserve of men. Some see local sport as a route to becoming super fit. For others it's a route to getting well or overcoming loneliness. It just works!
Banner designer: Pippa Galvin
"Axminster has so many sporting activities for all ages and interests to get involved in. It was hard to narrow down to just a few, but hopefully the result is bold and vibrant."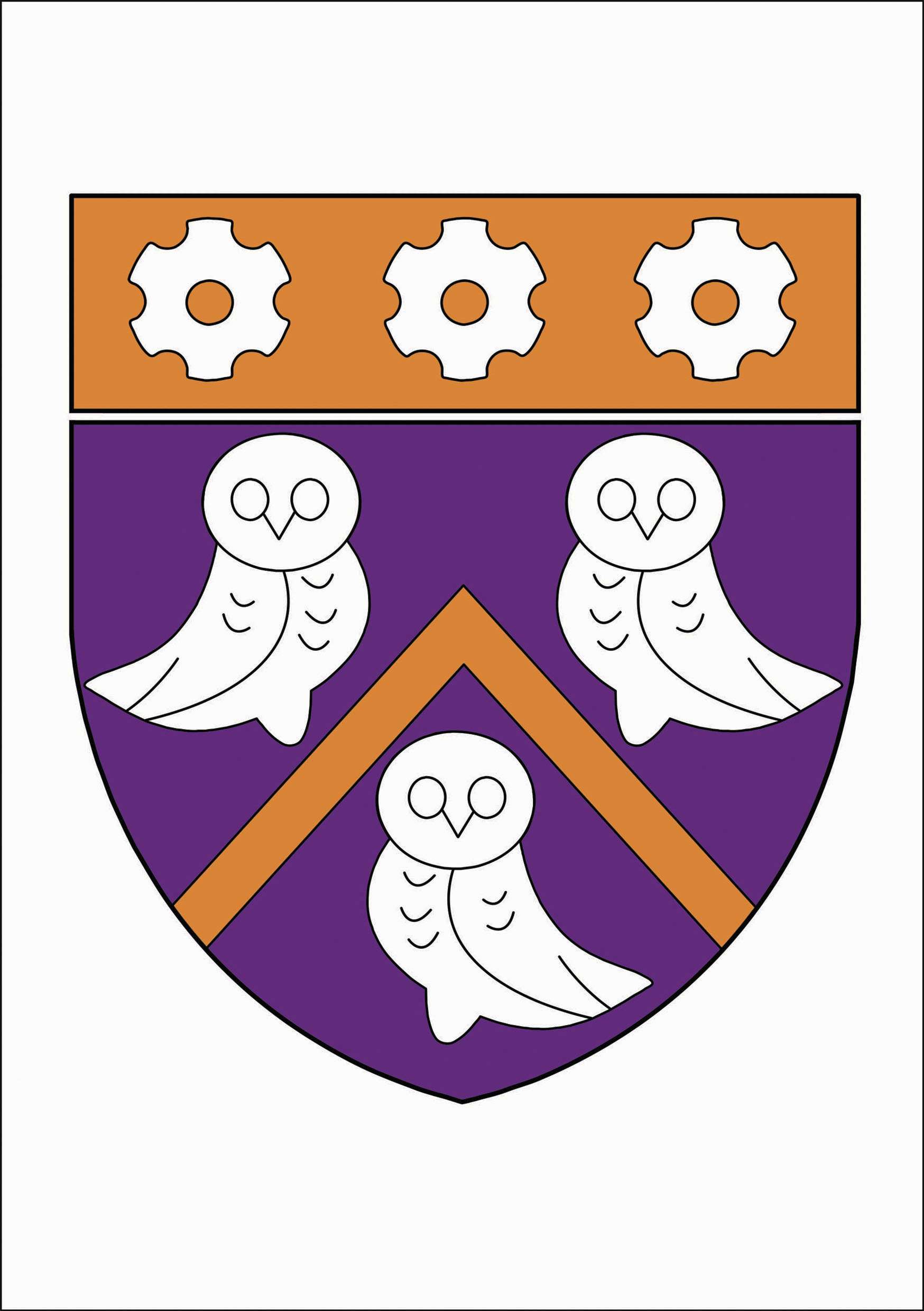 A ruin with a big history
Today, there are no above ground signs of it but for many years Newenham Abbey was the single most important building in the original parish of Axminster. 
Founded in 1247 by Cistercian monks and to the South West of the current town centre, it was dedicated to God and the Virgin Mary. An abbot and around 12 monks prayed for the soul of the founder, Reginald de Mohun, his ancestors and successors.
The Abbey suffered greatly at the time of the Black Death in 1349, losing almost all its community and leaving only the abbot and two monks alive. It was dissolved by Henry VIII in 1539 when he seized the income of monastic institutions, disposed of their assets and used them to fund his military campaigns. 
While Newenham fell into ruin, much of the stone was removed and reused. For example, a stone window became the door at the former Archway Bookshop premises in Church Street
Banner designer: Chris Parker-Sales
"The design is based on a tile taken from the Abbey, an image of which was kindly made available to us by Axminster Heritage Centre. I love the simplicity and the feel it has of heritage and great wisdom."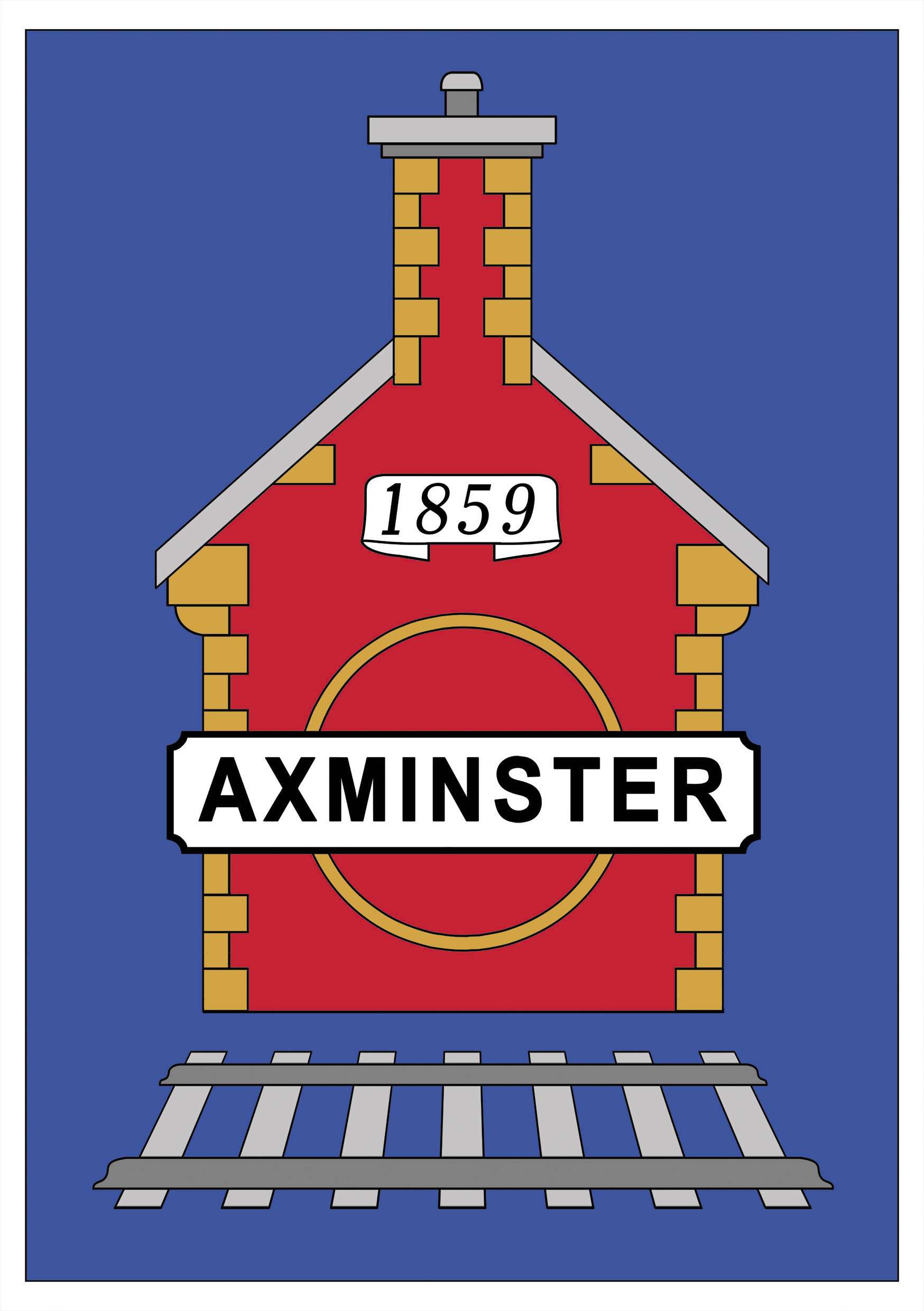 Gateway to so much more
To many it's a route to work, but Axminster Railway Station is also a tourist gateway for those who love the beautiful Jurassic Coast. It was built while Queen Victoria was on the throne and opened in 1860, some 144 miles down the line from London Waterloo. 
In 1903, Axminster became a junction when the Lyme Regis branch line was opened, featuring a steep climb out of Axminster to the east and then dropping again to Lyme Regis station . There, it breathed life into tourism as a substitute for the declining port trade. The branch closed with the nationwide cuts of the mid-1960s.
Limited by being in the middle of a 15-mile single track section of the route, Axminster benefitted from a £20m investment in 2009 when a new platform was added with footbridge, lifts and waiting shelter. With other developments, including a three-mile passing loop, trains became able to pass at Axminster with a resulting improved service frequency. Today the services to Exeter and London Waterloo run very regularly allowing residents and visitors to access the wider rail network with ease.
Banner designer: Sarah Jackson
"Axminster's railway station is a beautiful building that has stood the test of time. I wanted to have a little fun with this one and utilised some of the building's features to create our very own 'train' using the same colour palette as applies to the the town crest."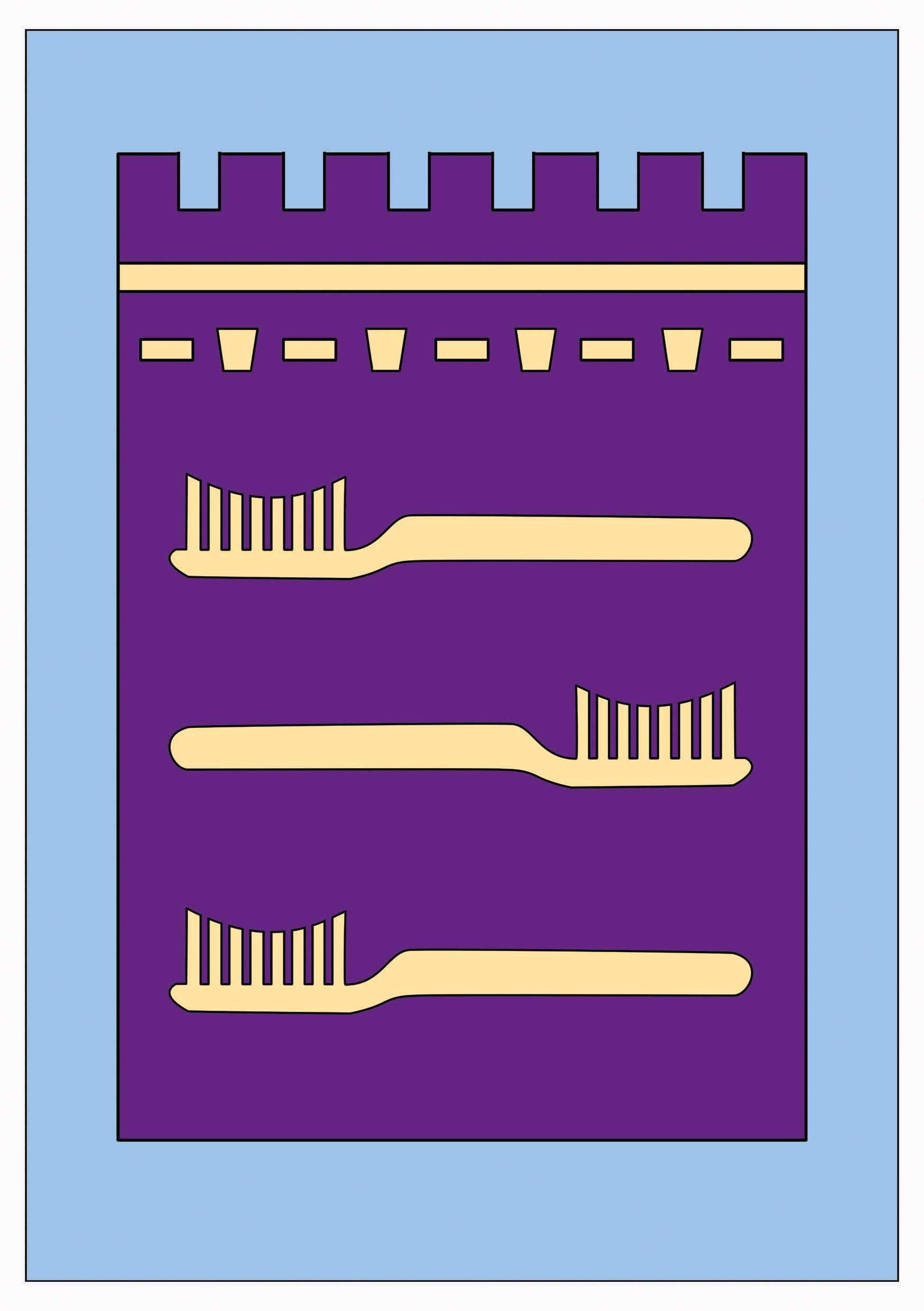 A great British brush centre
Axminster was once an important British centre for the manufacture of tooth, nail and hairbrushes, employing hundreds of local people. Two brush businesses (Bidwell's Brush Works and James Coate's London Brush Works) existed together in side-by-side factory buildings at the bottom of Castle Hill in 1882, attracted by the River Axe as a power source.
The big challenge in brush making in those days was the ability to fix multiple small bunches of bristles to a shaped head made from wood or bone. Skilled workers would typically spend a complete day drawing the bristles for a hairbrush through pre-drilled holes and fixing them before they were further cemented.
The back would then be applied, the brush shaped, sanded, stained and polished. In the case of tooth and nail brushes the cemented brushes would be washed, polished, graded, stamped and packed ready for sale, typically in packs of 144, each going through up to 70 different processes. Bidwells sold 72 different patterns of tooth brush alone, of 12 different qualities and four different stiffnesses. They also offered 200 patterns of hair brushes.
Banner designer: Sarah Clinton
"I was struck by the fact that the Bidwell Bros Brush Factory manufactured 14,400 brushes a week so I decided to depict their flagship toothbrush 'the Gloria' against the castellated facade of their factory situated at the bottom of Castle Hill."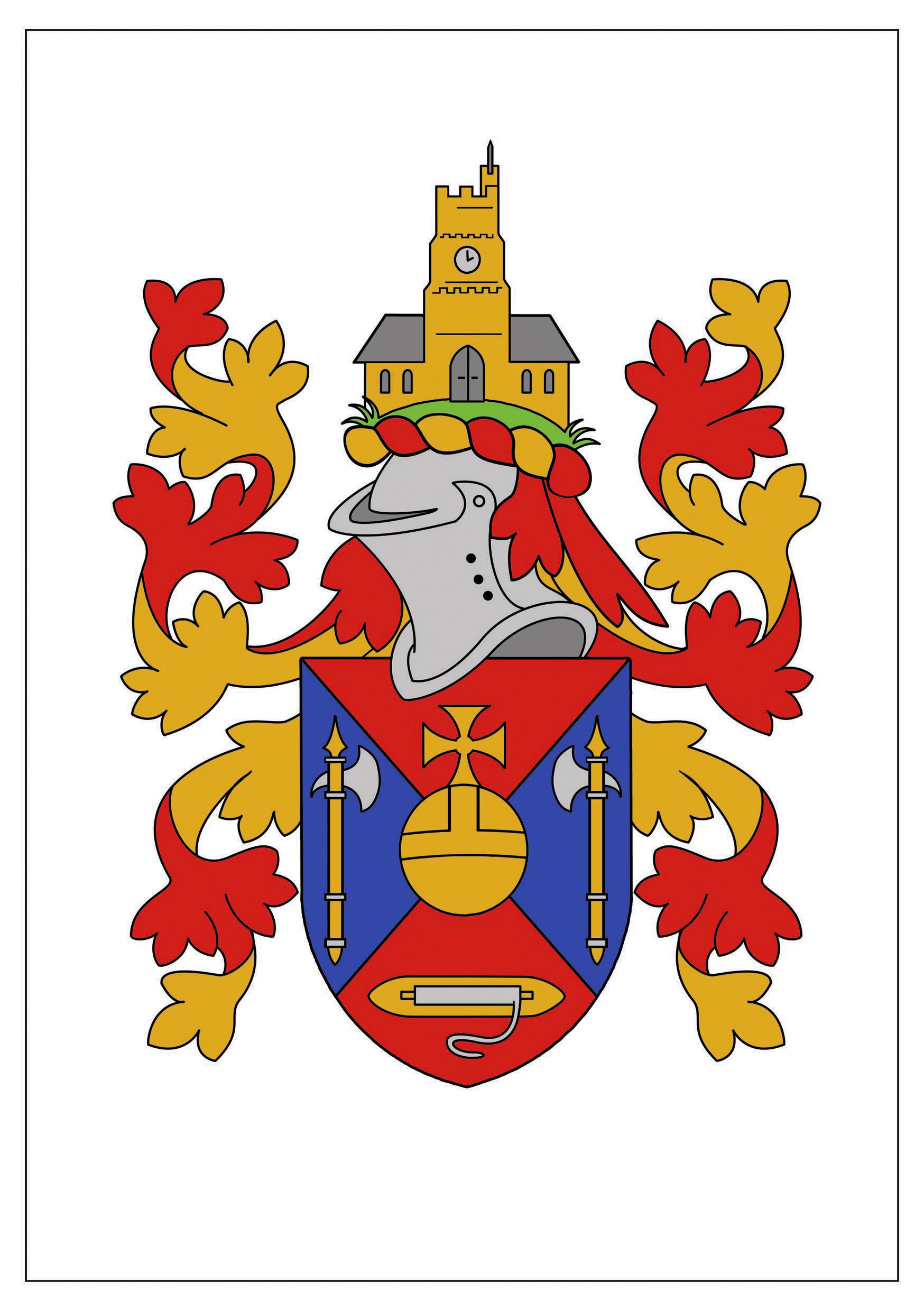 The crest that tells a story
 Have you ever taken a close look at the Axminster coat of arms? While we have had to slightly simplify its intricacies for the banner medium, all the key elements are there:
• The golden globe surmounted by a cross are from the arms of King Athelstan who was King of the Anglo-Saxons from 924 to 927 and King of the English from 927 to his death in 939
• The battle axes are from a major local battle after which seven earls were buried in Axminster with seven priests then appointed to pray for their souls
• At the base is a shuttle, a key tool in carpet-making
• Rising above is the ancient Minster around which the town grew up.
Not included (too detailed for banner painting) is the simple motto: 'Steadfast and faithful'
Banner designer: Sarah Jackson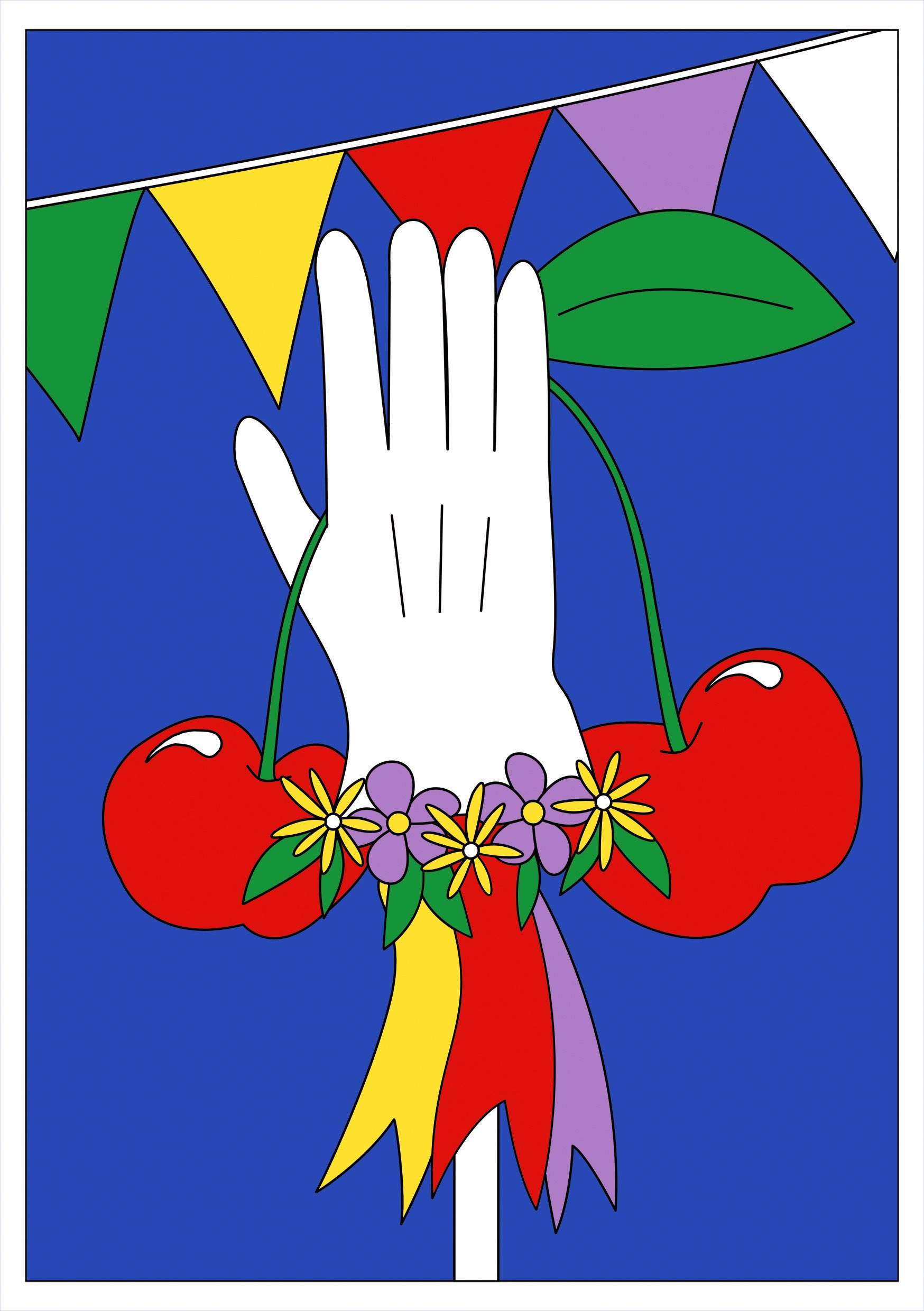 A great tradition
The Cherry Fayre is a popular feature of Axminster's annual calendar and a tradition that dates back over 800 years. It was in 1204 that King John granted the Manor of Axminster to Lord William Brewer, Sheriff of Devon and of several other counties, in return for an annual fee of £24 to help fund the king's armies.
The legal charter established Axminster as a market town with rights to hold a Sunday market and an eight-day annual fayre. The ancient midsummer Cherry Fayre celebration brought great prestige and valuable trade to the town, with merchants, traders and dealers of all kinds gathering to buy and sell a wide variety of produce.
Resurrected by Light Up Axminster in 2017, the event gets underway each year with the ancient 'raising of the glove' ceremony conducted by the current Lord of the Manor, Jim Rowe, who reads from King John's original charter.
Banner designer: Pippa Galvin
"The key elements of this banner are to celebrate the tradition of the 'Raising of The Glove' ceremony and the starting of the Cherry Fayre festivities. Our town is always dressed with countless handmade bunting and decorations. This bold and colourful design aims to demonstrate the fun and community spirit of this summer tradition in Axminster."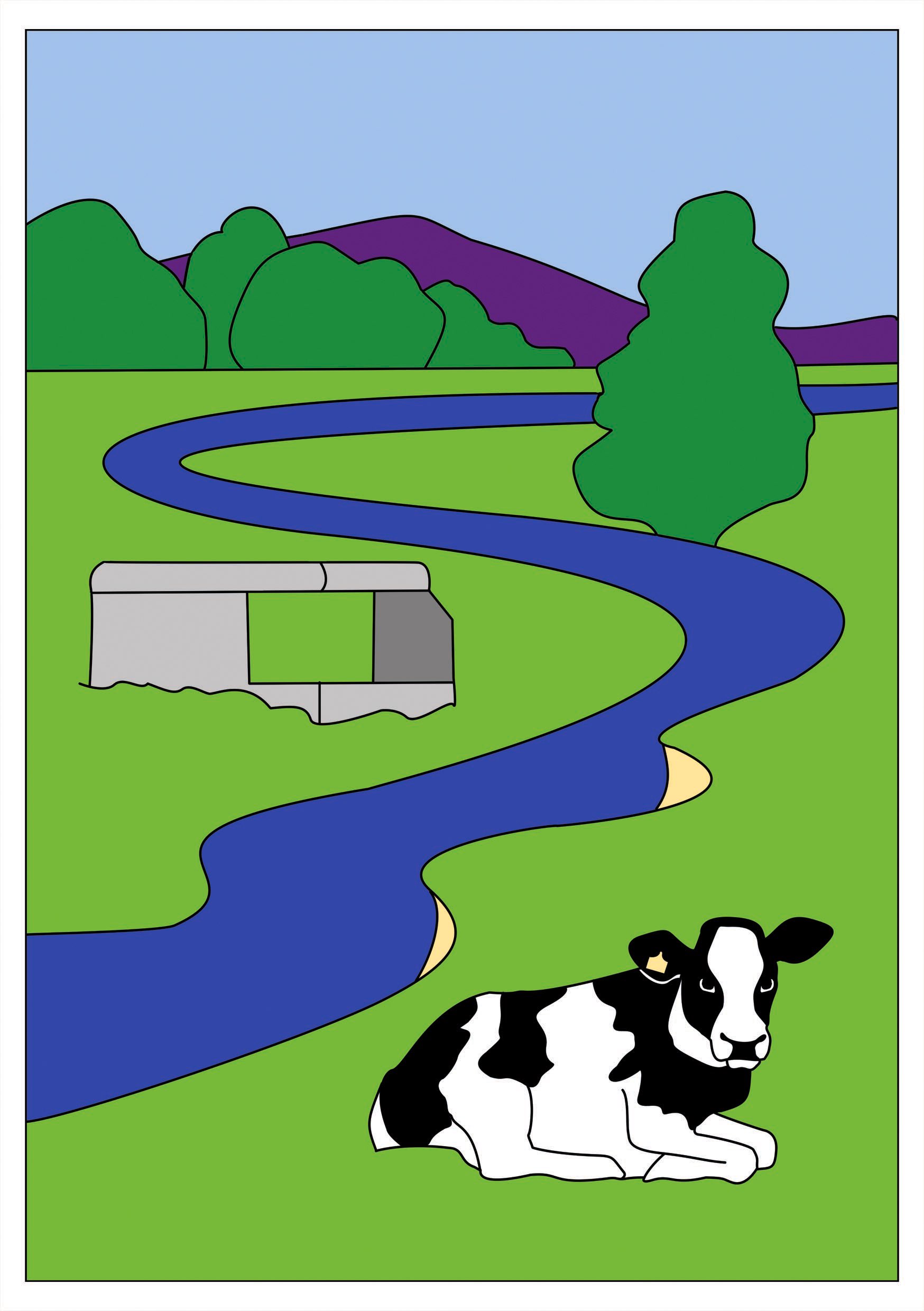 A farming community
Farming has done much to shape the East Devon countryside, with the extensive pasture land doing much to maintain a rolling green landscape. While dairy, beef and sheep farming each make a particular contribution to today's local economy, arable crops also have an important role. In days gone by, the weaving, milling and leather trades all drew their raw materials locally.
Butter and cheese have been important farm-based products over many years. Wind back to the late 18th century and horse drawn carts carried such produce to London, taking four days to get there. It wasn't until the coming of the railways that local milk made the rather speedier trip to the capital. The role of local farmers as stewards of the countryside is more important today than it has ever been,
Banner designer: Ros Hammond
"Along the water meadows beside the River Axe is where we see the cattle that are at the centre of East Devon farming life. I also wanted to include the stop line pillbox as it is such an iconic image of this extraordinary aspect of our history along the riverside."